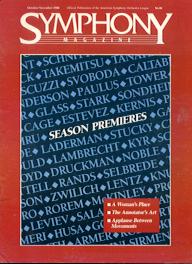 Last updated:

May 19, 2017

All prices are in U.S. Dollars and subject to change.

Cover graphic: © American Symphony Orchestra League (ASOL). Contact Publisher for current status of works listed as unpublished.

FREE SHIPPING on all orders $20.00 and over.

(U.S. only)
Choose "Media Mail" postal rate when ordering.



PUBLISHED WORKS (Orchestra)

CHILD'S DREAM

- Cantata for Children's Choir & Orchestra, Op.66 (1973)

CONCERTO

for Marimba & Orchestra, Op.148 (1995)

CONCERTO

for Violin & Orchestra, Op.77 (1975)

CONCERTO No. 1

for Piano & Orchestra, Op.71 (1974)

CONCERTO No. 2

for Piano & Orchestra, Op.134 (1989)

DANCE SUITE

for Orchestra, Op.128 (1987)

EX LIBRIS

for Orchestra, Op.113 (1983)

FESTIVE OVERTURE

for Orchestra, Op.103 (1981-82)

JOURNEY

- Cantata for Mezzosoprano, Baritone, Choir & Orchestra, Op.127 (1987)

NOCTURNE (Cosmic Sunset)

for Orchestra, Op.100 (1980-81)

OVERTURE OF THE SEASON

for Orchestra, Op.89 (1978)

REFLECTIONS

for Orchestra, Op.53 (1968)

REMEMBRANCE

- Chorale for Trumpet and Orchestra, Op.152a (1997)

SERENADE

for Orchestra, Op.115 (1984)

SINFONIETTA (a la Renaissance)

for Orchestra, Op.60 (1972)

SPRING OVERTURE

for Orchestra, Op.172 (2002)

SWING DANCE

for Orchestra, Op.135a (1992)

SYMPHONY No. 1 (of Nature)

, Op.20 for Orchestra (1956-57)

SYMPHONY No. 2 (of Love & War)

for Orchestra, Op.41 (1963-64)

SYMPHONY No. 3

for Organ & Orchestra, Op.43 (1965)

SYMPHONY No. 4 (Apocalyptic)

for Orchestra, Op.69 (1975)

SYMPHONY No. 5 (in Unison)

for Orchestra, Op.92 (1978)

SYMPHONY No. 6

for Clarinet & Orchestra, Op.137 (1991)

THREE CADENZAS

for Piano & Orchestra, Op.135 (1990)

THREE PIECES

for Orchestra, Op.45 (1966)

* See "Unpublished" and "special order" works below.


CHILD'S DREAM - Cantata for Children's Choir & Orchestra

, Op.66 (1973)
[11:00] (42p)
Instr.: 3222/4330/Timp/4pc(3 poss.)/Cel/Pno/Strings.
(Score & performance materials on rental)


[One movmt. work]




(Score)

32k


128k

[1] Allegro
-
listen
listen
CONCERTO for Marimba & Orchestra

, Op.148 (1995)
[25:48] (98p.) (TCS-65)
Instr.: Marimba solo/3232/4331/Timp/2pc(1 poss.)/Hp/Cel/Pno/Strings.
Parts on rental
Score (8.5x12): $51.00 USD


* Grammy Award Nomination (2003) *


"Best Instrumental Soloist(s) Performance With Orchestra"
James DePreist,cond.; Niel DePonte,marimba; Oregon Symphony [ Albany Records ]









** See Marimba/Piano reduction score on the

Percussion Works

page.

CONCERTO for Violin & Orchestra

, Op.77 (1975)
[19:00] (54p.) (TCS-03)
Instrumentation: Violin solo/2222/2230/Timp/Strings.
Parts on rental
Score (9x12): $32.00 USD



[One movmt. work]


(Score)
[1] Lento - Allegro
view
CONCERTO No. 1 for Piano & Orchestra

, Op.71 (1974)
[19:00] (75p.) (TCS-49)
Instr.: Pno solo/1111/1100/Timp/Strings.
Parts on rental
Performers on CD:
Dayton Philharmonic
Neal Gittleman, cond.
Tomas Svoboda, soloist.
(Contact Publisher for availability of two-piano reduction score.)
Full Score (9x12): $42.50 USD








[*one movmt. work]


(Score)


32k


128k


[1] Allegro · Allegro moderato · Allegro · Moderato · Presto · Cadenza · Allegro

view
listen
listen

[2] (Additional sheet music sample)

view
-
-



* Additional audio samples of this work can be found at the following website:





CONCERTO No. 2 for Piano & Orchestra

, Op.134 (1989)
[45:00] (177p.) (TCS-56)
Instr.: Piano solo/3232/4331/Timp/4 perc/Strings
Parts on rental
Performers on CD:
Dayton Philharmonic
Neal Gittleman, cond.
Norman Krieger, soloist.
(Score [2-Piano reduction]: contact Publisher for availability status.)
Full Score (9x12): $89.00 USD








[*Track]


(Score)


32k


128k

[1] Allegro ma non troppo
view
-
-
[1] Lento rubato [Cadenza]
view
listen
listen
[2] Lento recitativo
view
listen
listen
[3] Presto
view
listen
listen

* Additional audio samples of this work can be found at the following website:




DANCE SUITE for Orchestra

, Op.128 (1987)
[23:00]
Instr.: 3222/4231/Timp/4pc/Strings.
Score & parts on rental


EX LIBRIS for Orchestra

, Op.113 (1983)
[8:00] (17p.) (TCS-46)
Instr.: 3233/4341/Timp/4 perc/Strings.
Parts on rental
Pocket Score (5.5x7) [TCS-16]: $3.50 USD [Buy here]
Score (8.5x12): $12.50 USD



FESTIVE OVERTURE for Orchestra

, Op.103 (1981-82)
[9:00] (56p.) (TCS-51)
Instr.: 3232/4441/Timp/5 perc/Strings.
Score (8.5x12): $30.00 USD







(Score)

32k


128k

[1] Allegro ritmico
view
-
-
JOURNEY, Cantata for Mezzosoprano, Baritone, Choir & Orchestra

, Op.127 (1987)
[24:00] (58p.) (TCS-55)
Instr.: 222(+2Sax.A)2/4331/Timp/5perc/Xyl/Strings
Parts on rental
Full Score (8.5x12): $38.00 USD







(Score)

32k


128k

[1] Lento recitativo
view
-
-
NOCTURNE (Cosmic Sunset) for Orchestra

, Op.100 (1980-81)
[20:00] (46p.) (TCS-44)
Instr.: 2222/2(4 opt)20(3 opt)0/Timp/2 Pc/Gtr(opt)/Hp/Strings.
Parts on rental
Score (8.5x12): $23.00 USD



[One movmt. work]




(Score)

32k


128k

[1] Adagio maestoso
view
-
-
OVERTURE OF THE SEASON for Orchestra

, Op. 89 (1978)
[8:42] (45p.) (TCS-11)
Instr.: 3222/4331/Timp/2pc(chimes;susp.cym a2)/strings.
Parts on rental
* Pocket Score (5.5x7.5) [TCS-21]: $8.00 USD
* Score (8.5x12): $25.00 USD (* See below)
* Conductor's Score (11x15): Available for performances.

* [This score is available in PDF format below

in its entirety

for
study purposes only. Redistribution of the score or sample audio
file by any method or in any format is prohibited without written
permission from the copyright owner.]










[*Track]


(Entire Score)


(193k)

[1] Molto allegro
view
listen

* Additional audio sample of this work can be found at Albany Records.



# List of 279 performances sorted by:

Orchestras (145) * Conductors (95)



REFLECTIONS for Orchestra

, Op.53 (1968)
[25:00] (83p.)
Instr.: 4343/4340/Timp/6pc/Pno/Strings
Score & parts on rental


REMEMBRANCE - Chorale for Trumpet and Orchestra

, Op.152a (1997)
[19:00] (50p.) (TCS-100)
Instr.: 3233/4441/Timp/2pc/Cel/Org(opt)/Trpt solo/Strings.
Parts on rental
Score (8.5x12): $30.00 USD



* Orchestration of: "DUO CONCERTO for Trumpet & Organ, Op.152".

SERENADE for Orchestra

, Op.115 (1984)
[6:30] (20p.) (TCS-42)
Instr.: 3222/4331/1 perc/Strings.
Parts on rental
Pocket Score (5.5x7) [TCS-43]: $3.50 USD [Buy here]
Score (8.5x12) [TCS-42]: $14.00 USD







(Score)


32K


128K

[1] Con moto
view
-
-
SINFONIETTA (a la Renaissance) for Orchestra

, Op.60 (1972)
[20:00] (122p.) (TCS-48)
Instr.: 3222/4331/Timp/4 perc(3 poss.)/Strings.
Parts on rental
Score (8.5x11): $37.00 USD



[One movmt. work]




(Score)


32K


128K

[1] Lento - Piu allegro
view
listen
listen
[2] (Additional sample)
-
-
-
SPRING OVERTURE for Orchestra

, Op.172 (2002)
[11:00] (59p.) (TCS-135)
Instr.: 3222/4231/Timp/2pc/Xyl/Pno/Strings.
Score & parts on rental



(Score)

[1] Allegro comodo
view
SWING DANCE for Orchestra

, Op.135a (1992)
[6:00] (49p.) (TCS-47)
Instr.: 322(+Sax.A)2/4331/Timp/2 perc/Strings.
Parts on rental
Pocket Score (5.5x7) [TCS-17]: $8.00 USD [Buy here]
Score (9x12): [TCS-47] $29.50 USD







(Score)


32K


128K


[1] Allegro ritmico

(computer audio)
view
listen
listen
SYMPHONY No. 1 (of Nature)

, Op.20 for Orchestra (1956-57)
[36:02] (161p.) (TCS-53)
Instr.: 3232/4341/Timp/3 perc/Pno/Strings.
Parts on rental
Score (8.5x12): $64.00 USD




SYMPHONY No. 2 (of Love & War)

for Orchestra, Op. 41 (1963-64;
revised 2012)
[43:00] (131p.) (TCS-176)
Instr.: 322(Bcl)2/4331/Timp/4 perc/pno/strings (perc.: 2 players)
Date of Premiere: Sat. Nov. 12, 2016
Performers: Portland Youth Philharmonic
Conductor: David Hattner
Venue: Arlene Schnitzer Concert Hall
Location: Portland, Oregon USA
Parts on rental
* Score (8.5x11): [* See below]
* Conductor's Score (11x14): Available for performances.

* [This score is available in PDF format below

in its entirety

for study
purposes only. Redistribution of the score, sample audio and video
files by any method or in any format is prohibited without written
permission from the copyright owners.]


* Video captured, edited and produced by Tom Emerson Video Productions;
* Audio recorded and mastered by Roderick J. Evenson.
* Video & Audio: © 2016 Portland Youth Philharmonic.

#
Letter from Nadia Boulanger about Symphony No. 2, Op. 41:
Below is a letter from Nadia Boulanger to Tomas Svoboda's publisher in 1979,
6 months before Mme. Boulanger's death. Her letter was inspired by the "2nd Movt - Lento." of Tomas Svoboda's "Symphony No. 2 (of Love & War), Op. 41."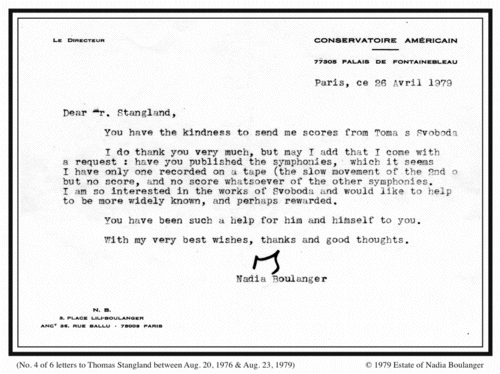 #

Published Articles about Symphony No. 2 (of Love & War):

1) "Tomas Svoboda's Symphony #2: A love story in four movements" (Oregon ArtsWatch - Brett Campbell)

2) "Portland composer's long-lost symphony about love and war finally gets world premiere" (The Oregonian)



SYMPHONY No. 3 for Organ & Orchestra

, Op.43 (1965)
[28:00] (95p.) (TCS-91)
Instr.: 322(+Cl.E flat,Bcl,CbCl)(Sax.A)2/4341/4231/Timp/ 6pc/Xyl/Pno/Org/Str.Quintet/Strings.
Parts: still to be done.
Score (8.5x12): $45.00 USD







(Score)


32k


128k

[1] Larghetto
view
-
-
[2] Vivace
view
-
-
[3] Larghetto
view
-
-
SYMPHONY No. 4 (Apocalyptic) for Orchestra

, Op.69 (1975)
[27:00] (128p.) (TCS-02)
Instr.: 324(+Sax.A)2/4341/Timp/7pc/Hp/Cel/Strings.
Parts on rental
Score (8.5x12): $52.00 USD






SYMPHONY No. 5 (in Unison) for Orchestra

, Op.92 (1978)
[33:00] (155p.) (TCS-50)
Instr.: 4342/4331/Timp/5pc/Hp/Pno/Strings.
Parts on rental
Score (8.5x12): $62.00 USD







(Score)


32k


128k

[1] Allegro vivace
view
-
-
[1] Allegro vivace (2nd excerpt)
view
-
-
[2] Adagio
view
-
-
[2] Molto allegro
view
-
-
SYMPHONY No. 6 for Clarinet & Orchestra

, Op.137 (1991)
[38:00] (149p.) (TCS-57)
Instr.: 321(+Cl.solo)2/4331/Timp/3pc(2poss.)/Strings.
Parts on rental
Score (8.5x11): $53.00 USD






THREE CADENZAS for Piano & Orchestra

, Op.135 (1990)
[31:30] (92p.) (TCS-138)
Instr.: 322(+Sax.A)2/4230/Timp/3pc/Xyl/Pno/Strings.
Commissioned by Boston Ballet, Inc.
Score & parts on rental






(Score)


32K

[1] Lento
-
-
[2] Vivace
-
-
[3] Lento
-
-
[4] Meno mosso
-
-
[5] Lento
-
-
[6] Allegretto
-
-
THREE PIECES for Orchestra

, Op.45 (1966)
[9:30] (63p.)
Instr.: 3222/4231/Timp/3pc/Strings.
Score & parts on rental






(Score)

[1] Tempo alla marcia
view
[2] Moderato
view
[3] Allegretto
view




UNPUBLISHED WORKS (Orchestra)


(Contact Publisher for current status and availability)

DRAMATIC OVERTURE

for Orchestra, Op.26 (1959)

IN A LINDEN'S SHADOW

- Symphonic Poem for Large Orchestra, Op.25 (1957-58)

SCHERZO

for Two Euphonias and Orchestra, Op.8 (1955)

SUITE

for Mezzosoprano and Orchestra, Op.30 (1961)

DRAMATIC OVERTURE for Orchestra

, Op.26 (1959)
[10:00]
(Score to be revised)

IN A LINDEN'S SHADOW, Symphonic Poem for Large Orch.

, Op.25
(1957-58)
[60:00]
(Score to be revised)

SCHERZO for Two Euphonias and Orchestra

, Op.8 (1955)
[18:30] (32p.)
Instr.: 2 Euphonias solo/3222/0000/Timp/1pc/Strings.


SUITE for Mezzosoprano and Orchestra

, Op.30 (1961)
[24:00] (116p.)
Instr.: 32(Muta Cor.Ingl)44/4222/Timp/4pc/Pno/Strings.
(Score to be revised)