Tomas Svoboda
QUOTES & REVIEWS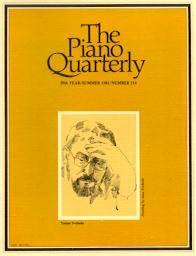 Summer 1981 issue
"I am struck by the personality of Tomas Svoboda. I am so interested in (his) works and would like to help him to be more widely known."
Nadia Boulanger (1887-1979)
"This is music of heroic power and consummate mastery...the like of which hasn't come my way for years, nor from my modern countrymen. Add to that, piano playing of highest order."
Ernst Bacon (Pulitzer Fellowship - 1933)
"Ever since we got our first look at some of his music we have been convinced of his marvelous talent."
The Piano Quarterly
"(Svoboda) shows every sign of being a talent to be reckoned with."
San Francisco Examiner
"...his mastery of the craft of composition is at a very high level."
Milwaukee Journal
"(Svoboda) is as talented in playing the piano as he is in writing for it."
Los Angeles Times
"The sheer variety (of Svoboda's music) continues to astonish."
The American Record Guide
"Ninety minutes of music by this composer is virtually a total delight."
The Oregonian
"We have a feeling that Svoboda will contribute much significant music in his lifetime."
The Medford Tribune
CHORALE IN E flat (homage to Aaron Copland)
, Op.118 for Piano Quintet;
"turned out to be the shortest, most heartfelt and appropriate of the premieres, decidedly Coplandesque in its harmonic language, yet with something original to say as well."
New York Times
CONCERTO No.2 for Piano & Orchestra
, Op.134;
"hair-raising ....shades of Prokofiev, to be sure, but solid contours that were certainly the composer's own."
Musical America
"...will not fail to impress. This music repays repeated listening and makes an appealing calling card for a composer with interesting things to say in large forms."
ClassicsToday
"....a driving "tour de force" of spectacular pianistic figures and propulsive motion."
Cincinnati Enquirer
OVERTURE OF THE SEASON
, Op.89 for Orchestra;
"brought down the house.... it could enter anyone's standard repertoire with apologies to no one."
Oregon Journal
FESTIVE OVERTURE
, Op.103 for Orchestra;
"....a brilliant fanfare."
Los Angeles Times
SYMPHONY No. 4 (Apocalyptic)
, Op.69;
"stunning....compared to 99% of contemporary composition, it is a masterpiece."
Oregon Journal
SYMPHONY No.5 (in Unison)
, Op.92;
"Absolutely riveting. Tomas Svoboda's Fifth Symphony is a knockout."
The Oregonian
NOCTURNE for Orchestra (Cosmic Sunset)
, Op.100;
"a night to remember... a tumultuous response from a capacity crowd."
Eugene Register-Guard
PASSACAGLIA & FUGUE
, Op.87 for Violin, Cello & Piano;
"Anyone who believes beautiful music is a thing of the past should listen to Svoboda's (Passacaglia & Fugue)."
American Record Guide
TRIO (van Gogh)
, Op.116 for Violin, Cello & Piano;
"...gripping stuff, nightmare music of the first order, but the pain feels so authentic that the trio is hard to get through at one sitting."
American Record Guide
Last updated: Nov. 7, 2022
[ Top ↑ ]