Tomas Svoboda
CONCERTO for Marimba & Orchestra
[25 orchestras - 23 conductors - 37 performances]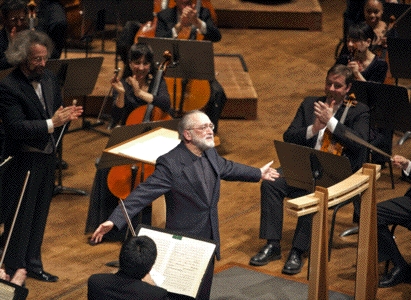 * Photo © 2009 Oregon Symphony Orchestra
CONCERTO for Marimba & Orchestra
, Op.148 (1995)
[25:48] (98p.) (TCS-65)
Instr.:
Marimba solo/3232/4331/Timp/2pc(1 poss.)/Hp/Cel/Pno/Strings.
Parts on rental
Score (8.5x12):
$51.00 USD
* See Marimba/Piano reduction score on the "Percussion Works" page.
* Grammy Award Nomination (2003) *
"Best Instrumental Soloist(s) Performance With Orchestra"
James DePreist
, cond.;
Niel DePonte
, marimba;
Oregon Symphony
[
Albany Records
]



* Audio mp3 clips from Grammy nominated Oregon Symphony CD.
** Video YouTube performance: Brno Philharmonic with Janáček Academy of Music musicians; Kristýna Karchová (marimba); Maros Potokar (cond.).
* Orchestras and Conductors *

INTERNATIONAL
Brno Philharmonic (Czech Republic)
(w. Janácek Academy of Music musicians)
Maros Potokar
Kristyna Karchová [mar.]
Central Aichi Symphony Orchestra (Japan)
Chosei Komatsu
Sayaka Mase [mar.]
Conservatory of Music of Quebec (Canada)
Gilles Auger
Charles-Alexis Côté [mar.]
Costa Rica National Orchestra (Costa Rica)
Marvin Araya
Nanae Mimura [mar.]
Guatemala National Symphony (Guatemala)
Marvin Araya
Nanae Mimura [mar.]
Univ. of Toronto Symphony (Canada)
Victor Feldbrill
Graham Hargrove [mar.]
ALASKA
[
Top ↑
]
Fairbanks Symphony Orchestra (AK)
Gordon Wright
Cayenna Ponchione [mar.]
CALIFORNIA
[
Top ↑
]
Bakersfield Symphony Orchestra (CA)
John Farrer
Nanae Mimura [mar.]
Calif. State Univ. - Sacramento Symphony (CA)
Leo Eylar
Daniel Kennedy [mar.]
San Francisco Concerto Orchestra (CA)
Mary Chun
Luanne Warner [mar.]
COLORADO
[
Top ↑
]
Colorado Springs Symphony (CO)
Daniel Hege
Neil DePonte [mar.]
CONNECTICUT
[
Top ↑
]
Norwalk Symphony (CT)
Diane Wittry
Naoko Takada [mar.]
FLORIDA
[
Top ↑
]
Florida State University Sym. (FL)
Alexander Jiménez
John W. Parks IV [mar.]
ILLINOIS
[
Top ↑
]
NIU Philharmonic (Northern Illinois Univ.) (IL)
Fusao Kajima
Elizabeth DeLamater [mar.]
KANSAS
[
Top ↑
]
Kansas State Univ. Symphony (KS)
David Littrell
Grant Whitcomb [mar.]
MICHIGAN
[
Top ↑
]
Central Michigan Univ. Symphony (MI)
Carlton Woods
Patrick Estvold [mar.]
MISSOURI
[
Top ↑
]
St. Joseph Symphony Orchestra (MO)
Deborah Freedman
Luanne Warner [mar.]
MONTANA
[
Top ↑
]
Bozeman Symphony Orchestra (MT)
Matthew Savery
Jeffrey Vick [mar.]
Univ. of Montana Symphony (MT)
Joseph Henry
Mark Schummer [mar.]
OREGON
[ [
Top ↑
]
Oregon Symphony Orchestra (OR)
James DePreist
Neil DePonte [mar.]
Univ. of Oregon Symphony (OR)
Wayne Bennett
Brenda S. Lauffenberger [mar.]
TEXAS
[
Top ↑
]
Midland-Odessa Symphony & Chorale (TX)
Robert E. Hunt
Sharon Hickox [mar.]
VIRGINIA
[
Top ↑
]
Shenandoah Conservatory Symphony (VA)
Jan Wagner
Jared Robertson [mar.]
WASHINGTON
[
Top ↑
]
Walla Walla Symphony Orchestra (WA)
Yaacov Bergman
Neil DePonte [mar.]
WYOMING
[
Top ↑
]
Wyoming Symphony (WY)
Matthew Savery
Neeraj Mehta [mar.]
[ Top ↑ ]