S V O B O D A
BIOGRAPHY - Medium version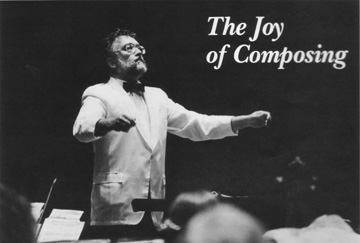 Born in Paris of Czech parents, December 6, 1939,
Tomas Svoboda
spent the years of World War II in Boston, where he began his musical education on the piano at the age of three. After his family's return to Prague in 1946, he continued his music studies, entering the Prague Conservatory in 1954 as its youngest student.
Unable to take formal classes in composition during his first years at the conservatory, Svoboda nevertheless composed his 36 min.
SYMPHONY No. 1 (of Nature),
Op. 20, at the age of 16. This work was premiered shortly thereafter by the prestigious FOK Prague Symphony Orchestra; Václav Smetáček, conductor.
By 1962, after graduating from the Prague Conservatory with degrees in percussion, composition and conducting, numerous performances and radio broadcasts of his music brought wide national recognition to Svoboda, clearly establishing him as Czechoslovakia's most important young composer.
In 1964, his family emigrated to the United States, where Svoboda enrolled at the Univ. of Southern California in 1966 as a graduate student, graduating with honors.
In 1981, first publication of his music brought forth a
front cover tribute
to Tomas Svoboda by the highly respected
Piano Quarterly
. In 1985 Svoboda was given the
ASCAP Foundation/Meet the Composer Award
and was commissioned to write his
CHORALE in E flat, for Piano Quintet,
Op. 118 for Aaron Copland's 85th birthday celebration in New York.
In 1987, national music educators surveyed by
The Piano Quarterly
, voted Svoboda's
CHILDREN'S TREASURE BOX
piano series to be among the
"40 most important composer collections of the 20th century"
for teaching piano.
In December 2003, Svoboda's
Marimba Concerto
was named in a
Grammy Award
nomination in the category of
"Best Instrumental Soloist With Orchestra"
;
Niel DePonte
, marimba;
James DePreist
, cond.; Oregon Symphony; [Albany Records].
To date, over 50 of Svoboda's compositions have been recorded, including 8 works from his orchestral catalog.
Today, over 1,300 known performances of his music have taken place throughout the world, including 500 orchestral performances, and include such major orchestras as the Boston, Philadelphia, Cleveland, San Francisco, Toronto, Monte-Carlo, Prague, Sapporo, Nagoya, plus the national symphonies of Guatemala and Costa Rica.
This past season (2016-17), the Portland Youth Philharmonic gave the world premiere of Svoboda's
Symphony No. 2 (of Love & War),
Op. 41 and on May 30, 2017, Svoboda's
Overture of the Season,
Op. 89 was performed by the Prague Symphony Orchestra at the world-renowned
Prague Spring 72nd International Music Festival
in the Czech Republic.
On Dec. 12th 2012, Tomas Svoboda suffered a massive stroke and continues to recover at his home in Portland, Oregon.
(Aug. 4, 2017)
Photo: © 1987 Cynthia Stowell/Portland State University; Used by Permission.
[ Top ↑ ]