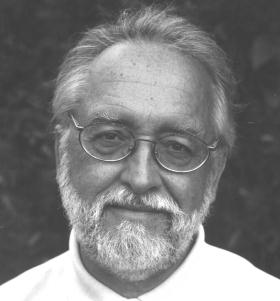 b. Dec. 6, 1939 [Paris, France]
d. Nov. 17, 2022 [Portland, Oregon USA]
Tomas Svoboda suffered a major stroke on Dec. 12, 2012. Though unable to compose from that time forward, he had already composed a substantial catalog of more than 200 works [50+ recorded], that were composed over a span of 63 years.

His catalog includes 6 symphonies, 7 concerti, 12 string quartets, and numerous other works, from solo pieces through large ensemble compositions. This body of works will stand as an amazing lifetime musical achievement in its totality and quality.

In December 2003, Svoboda's Marimba Concerto was recognized in a Grammy Award nomination in the category of "Best Instrumental Soloist With Orchestra"; Niel DePonte, marimba; James DePreist, cond.; Oregon Symphony; [Albany Records].

Tens of thousands of musicians around the world have performed the music of Tomas Svoboda and will continue on for generations to come.

More information on the life of Tomas Svoboda, plus audio & video recordings, current activities involving his music can be found under the "Biography", "What's New" & "Compositions" listings on this webpage, as well as other websites on the internet listed below:

Google [by searching for "Tomas Svoboda composer"]

Wikipedia

Oregon Encyclopedia



This site contains over
1000 pages
of sample sheet music and more than
260 audio clips
of music by Tomas Svoboda.
Audio Clips
are streamed in the MP3 audio format and can be played with any of the following audio players:
Website last updated: Oct. 15, 2023
Copyright © 2000-2022 THOMAS C. STANGLAND CO.
Photo: © Pavlina Summers; Used by permission.


Every effort has been made to have the correct prices posted for each publication. Should an error be found while processing an order, an email will be sent to the purchaser with that information, giving the purchaser the option to cancel their order.


All materials at this website are for perusal purposes only. Any reproduction, publication, distribution or public display of audio or visual materials provided on this website, in whole or in part & in any format is prohibited without prior written consent of the copyright owner(s).


[ Top ↑ ]